Is your design style contemporary, modern or traditional? Are you building a new kitchen or renovating your dining room and kitchen? No matter your situation, there are a few must-have kitchen design features everyone should integrate to get the best experience from the heart of their home!
Take a look at our top 10 must have kitchen design features.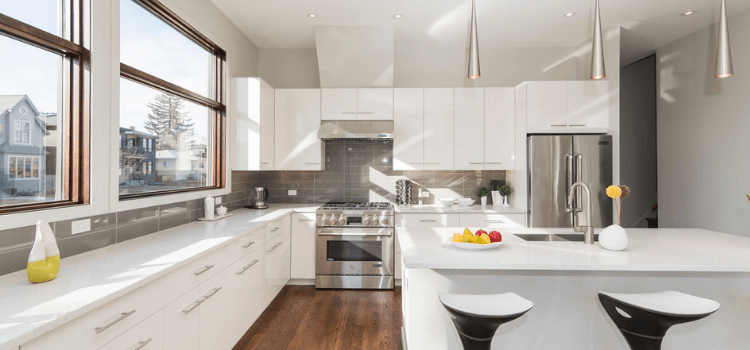 1. Expansive flooring

​
Choosing your kitchen products is definitely exciting. But there's something fundamental you shouldn't ignore in your next kitchen renovation: your kitchen's flooring. A modern approach that a lot of homeowners are carrying out is an open floor plan where the kitchen seamlessly integrates into the living room space.
Extending the flooring in the kitchen into the living room reinforces the sense of continuous space. For that warm touch, go for natural wooden floors. Integrating the cooking function of a kitchen with the comfort of the rest of your home impacts your overall enjoyment of the space far more than any other element.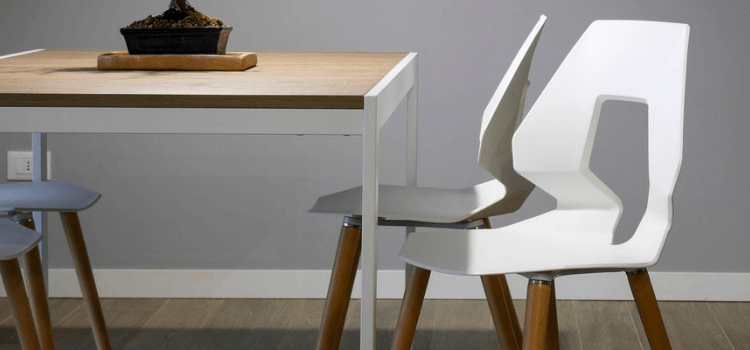 2. Minimalistic cabinetry

 
An increasing demand for minimalist looks and the need to maximise space have made handleless kitchen cabinets the flavour of the season. Continuing on with our streamlined theme, handleless cabinets make a beautiful addition to any home and are a must have design feature.
These cabinets not only offer an effortless and clean feeling to the kitchen renovation but can also help to create a clutter-free look. In terms of variety, there's a plethora of colours and finishes, however, white cabinets are topping the list. Depending on the appearance you prefer, pair your cabinets with concrete, wooden or marble floors.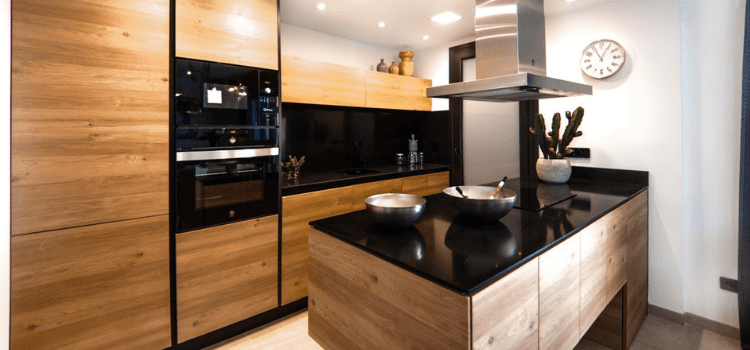 Offering unparalleled functional and aesthetic properties, Dekton kitchen bench tops are used to produce high quality kitchen surfaces. With a wide choice of materials and designs to choose from, this highly durable material has slowly been gaining popularity.
So what are you waiting for? Go get your hands on a heat, stain, and scratch resistant super strong kitchen work surface that will match all kitchen styles.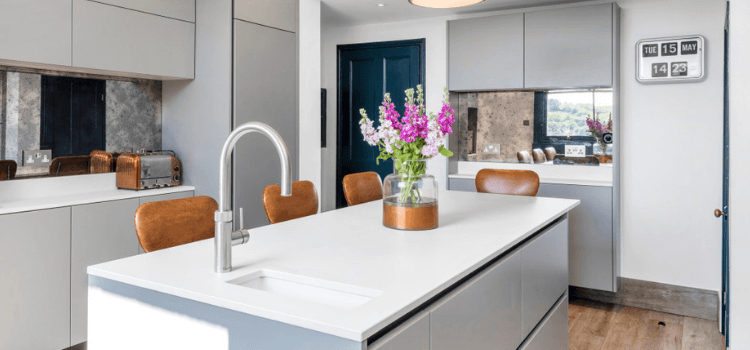 4. Tiled splashbacks

 
We often overlook the importance of kitchen splashbacks. Kitchen splashbacks have the magic to not just add a dimension to your kitchen but also prevent permanent stains on your wall. Tiled designs are in vogue now - from simple white, bold coloured, patterned, subway style and mosaic, there are more varieties to choose from than ever before.
Whether you are after something rustic or chic or something bold or neutral, tiled splashbacks are important design elements that provide many decorating and functional possibilities.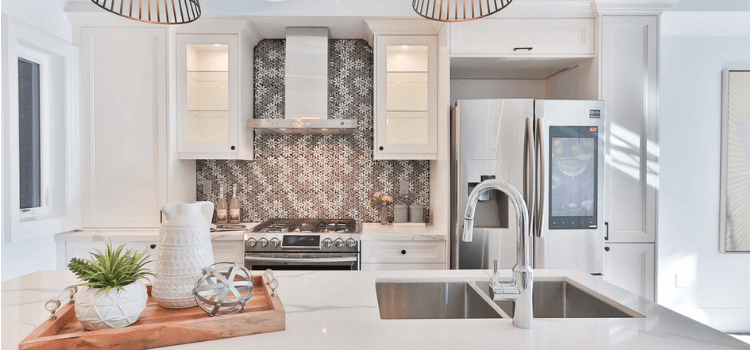 5. Integrated appliances

 
Built-in, integrated kitchen appliances are smart features that bring your kitchen into the future. Gone are the days when electrical wirings and appliances were visible. Closing the gap between functionality and aesthetics, kitchens are now designed to integrate seamlessly into your home.
We have an array of the best kitchen appliances for your home ranging from built-in microwaves, ovens, dishwashers, and refrigerators that can provide a cohesive and finished look to your space. Integrated appliances give the kitchen a clean image.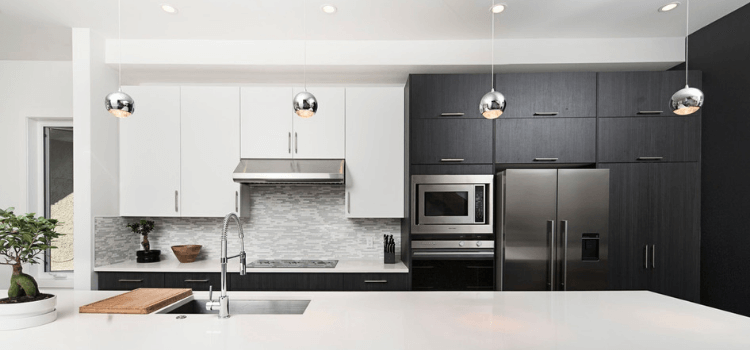 6. Open shelving

 
A look with universal appeal, open shelving in the kitchen is all the rage. Suited for both a rustic farmhouse and a modern apartment, open shelving is seen in many kitchen designs nowadays.
This layout enables your cutlery to become more accessible and open.  Make the most of this kitchen renovation idea and go ahead and display proudly that impressive collection of porcelain you have!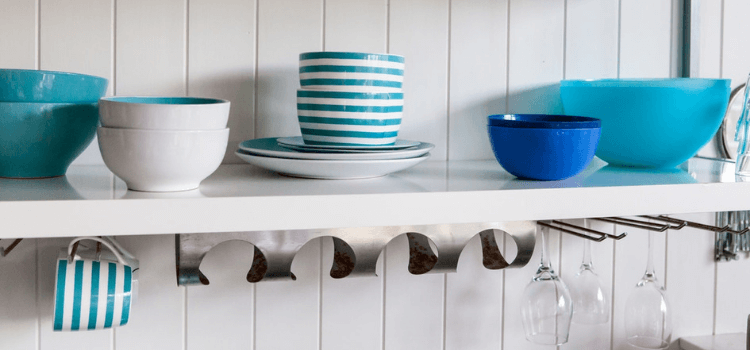 7. Utensil rack

 
No one wants to rummage through their drawers trying to find that spatula they're looking for. This day and age, convenience and accessibility go hand in hand. A great way to be efficient in the kitchen is to install a utensil rack. Every pot, pan and vessel right within your reach, without any hassle. A perfect place to install the rack is under the open shelves, near the main working station.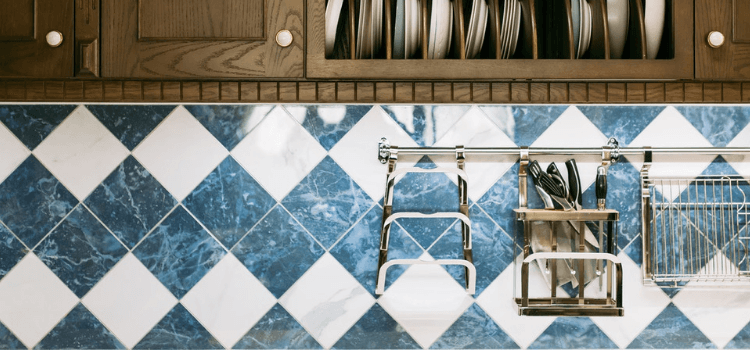 8. Statement lighting

 
More than a basic functionality of the kitchen, beautiful light fixtures can really help to define the style of the space they are placed in. For maximum impact, the perfect way to add statement lighting is by hiring a qualified electrician to hang three pendant lights or a chandelier over the kitchen island or entrance.  These light fixtures can help to define the style of the space they are placed in.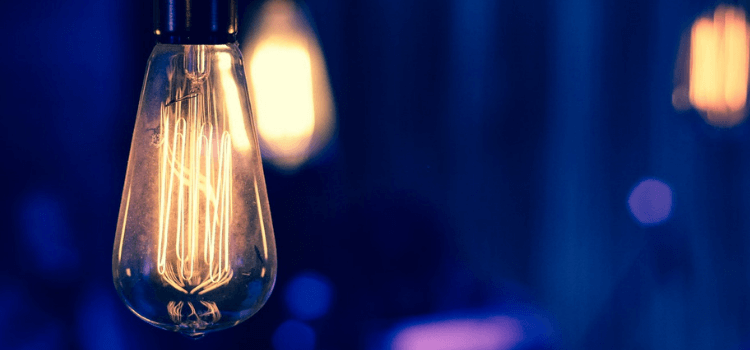 9. Double sink

 
Another must have kitchen design feature is a double sink which is versatile in function. For example, you can use one bowl for washing and the other to drain and dry, or you can use one bowl for your garbage disposal and the other for cleaning.
10. Enclosed rubbish and recycling station

 
Say goodbye to the old smelly trash bin sitting in the corner. A custom made trash and recycling station is a mandatory feature in every quality kitchen and is something that just can't be missed. In order to make taking the trash out easier and hide the kitchen bin, enclose it in a pull out drawer.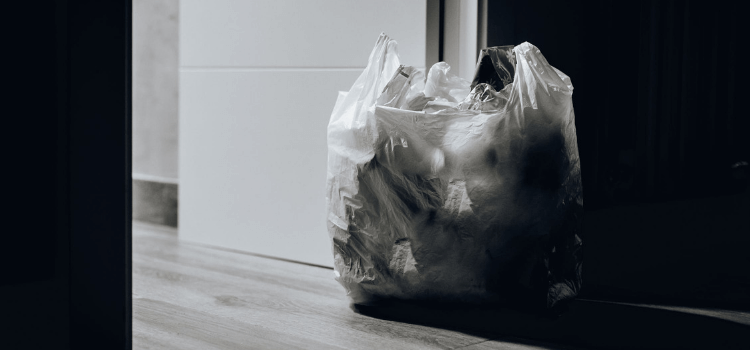 Need help with your kitchen renovation?
Get kitchen renovation quotes now
Further reading:
5 designer tips for kitchen inspo
How to live a more sustainable lifestyle
6 popular types of bathroom tiles
9 tips for setting up a successful airbnb investment property